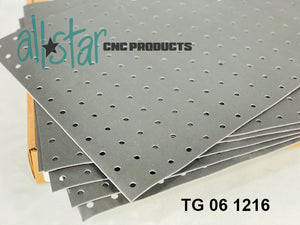 All Star CNC Tile Gasket, designed specifically for sealing 85% of the spoilboard, which allows concentrated vacuum where you need it.

The number of tiles are specific to the Modular Vacuum Table Kits, so please select the proper kit size when ordering. *This is a replacement tile kit, if you are purchasing the Vacuum Table Kit, the Tile Gasket is already included*

24x24" Kit includes (4) Gasket Tiles 
32x32" Kit includes (6) Gasket Tiles 

Please be cautious when setting your Z-Height, set it to cut approximately 0.02-0.03" into the gasket. This product is a consumable and should be replaced every 6months to a year depending on use. Refunds are not accepted.